Our wellbeing service promotes both mental and physical wellbeing by providing telephone support to disabled people during a period when we are all spending a great deal of time at home.
These calls aim to reduce isolation and loneliness by providing a listening ear as well as support and advice around coping strategies and ways to stay as well as possible. We have two wellbeing advisers dedicated to supporting disabled people to cope, feel heard, and develop ways to boost their own health and wellbeing during this extremely difficult time.
"it's so much more than just a phone call. Someone to talk to and listen means the world. Just speaking about silly things – it takes my mind of my worries and I feel so much better afterwards".

A member receiving wellbeing support.
In addition to over the phone support, a number of online wellbeing activities have been scheduled for 2021.  These include wellbeing tea and chat sessions, coping with COVID anxiety, pain management and sleep hygiene courses.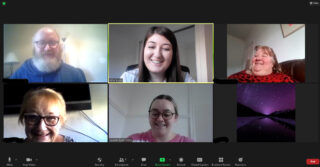 "the service really helped me at a time when I was down, particularly at the start of lockdown. Having someone listen to me helped me feel a lot better".

A member receiving wellbeing support.
We currently offer support to over 350 members. If you would like to be added to our call list, please call our office number and a member of staff will then refer you on. Alternatively, you can self-refer by sending an email to [email protected] with your full name and contact number and one of us will call you back.