Our wellbeing service promotes both mental and physical wellbeing by providing telephone support to disabled people.
We provide emotional support as well as practical advice through regular telephone calls as agreed with the person. We may also refer someone to another service for specialised support as appropriate.
These calls aim to reduce isolation and loneliness by providing a listening ear as well as support and advice around coping strategies and ways to stay as well as possible.
We have three (part-time) wellbeing advisers dedicated to supporting disabled people to cope, feel heard, and develop ways to boost their own health and wellbeing.
"Thank you for listening to me this morning, just nice to speak to someone who understands. You have made me feel so comfortable to talk."

A member receiving wellbeing support.
In addition to telephone support, we run a number of online wellbeing activities such as Mindfulness Meditation and a Menopause support group.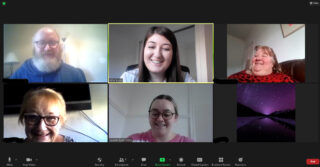 "Thank you for listening, it really makes a difference to me to feel so supported and I know that if I want to contact WB in between times I can do that." 

A member receiving wellbeing support.
If you would like to be called by a member of the Wellbeing team, please telephone our office number and your details will be passed to us so that we can contact you.
Alternatively, you can self-refer by sending an email to [email protected] with your full name and contact number and one of us will call you back.