As part of our response to the COVID-19 pandemic, GDA was delighted to become one of the Scottish Government's first pilot communities for their 'Connecting Scotland' digital inclusion drive.
Disabled people are 4 times as likely to face digital exclusion – lacking the equipment, connectivity or confidence to access the internet. Digital exclusion is both a cause and an effect of poverty, isolation, barriers to information and services, and barriers to accessing opportunities. 82% of GDA members surveyed said that isolation has been a major concern for them during the pandemic, with 60% lacking the technology, connectivity or confidence to get online.
If you need support, help or equipment, please contact [email protected] or call 07990 363763.
Confidence, Connectivity and Kit!
In response, the GDA Connects project has sourced, set up and distributed over 300 devices (iPads, Samsung tablets, laptops, Chromebooks and smartphones) to disabled people, along with support to learn how to use them. We have also equipped over 100 disabled people with unlimited internet access. To date, we've delivered thousands of hours of phone coaching and digital support to over 600 disabled people.
"When you first called me, I couldn't believe how lucky I was to be getting help, so willingly given to me. Now GDA are really shaping the new part of my life. I'm not scared of it knowing you're there."
200 additional pieces of equipment – such as webcams, headphones, Bluetooth speakers, wheelchair clamps, external keyboards, EyeGaze software, and styluses – have been purchased to meet digital access needs. We've engaged interpreters to support learners in other languages, signposted to other organisations for literacy support, and engaged a specialist coach to support our visually impaired learners with assistive technology.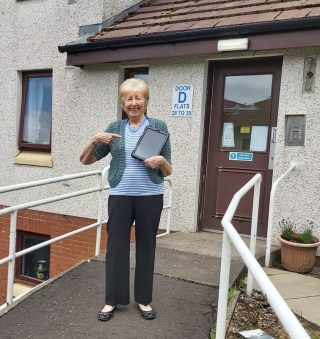 Our approach
GDA's digital coaches are not IT specialists; they use patient, person-led, flexible approaches, to support disabled people to remove barriers to digital participation, and build confidence in their own abilities.
"Thank you for being so patient. This was one of the first times in my life where someone has stuck at helping me understand something, usually people would just give up. I was a bit worried at the start about not being able to do much because of my dyslexia and learning difficulty, but I now feel really proud of myself for learning something new, and I can videocall my friends while we are all in lockdown."
Enabling Access, Tackling Isolation
Besides helping our members achieve their digital goals and stay connected with friends and family, we've been encouraging participation in our online learning programme, providing specific coaching around Zoom and email to enable access to our courses, including training members to use their existing technology.
"Getting the iPad has been transformative for me. It's been the best thing ever. It's opened so many doors, and I've been learning so many new things. I get up every day and I look forward to what GDA classes are going to be on. I had nothing before I got the iPad, apart from looking at my wee birdies and speaking to myself and my animals. But since I've got the iPad, it's been great. It's given me so many new experiences. So many things I've never known about before."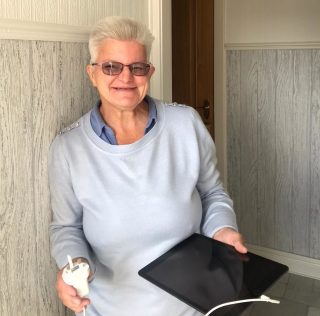 Through our Connects project, we've strengthened our relationships with partner organisations, sharing our learning to support other organisations to identify suitable digital solutions for disabled people and offer coaching that is accessible and robust.
We are also signatories of SCVO's Digital Participation Charter and the National Digital Inclusion Network.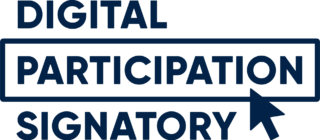 For more information about the GDA Connects project, email [email protected] or call 07990 363763.