Thanks for supporting GDA
Any donation you make goes directly towards the costs of providing free, accessible lifelong learning and support, to empower disabled people and people with long term conditions of all ages, right across Glasgow and beyond.
If you can spare a penny, a pound or more, please help us remove barriers, to ensure disabled people can have our voices heard – help us drive forwards equality in Glasgow and across Scotland.
Make an offline donation
Alternatively, to make an offline donation we ask that you please follow these instructions:
Make a check payable to "Glasgow Disability Alliance"
On the memo line of the check, please indicate that the donation is for "Glasgow Disability Alliance"
Please mail your check to:

Glasgow Disability Alliance,
Suite 301, The White Studios
Templeton Business Centre
Templeton Court
Glasgow, G40 1DA
All contributions will be gratefully acknowledged and are tax deductible.
Glasgow Community Lottery – Yaldi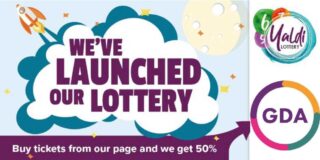 You can play the Glasgow Community Lottery with the potential to win up to £25,000 and donate to GDA too.
EasyFundraising
Raise funds for GDA every time you shop online through easyfundraising.
Making a donation through easyfundraising is quick, simple and 100% secure. Unlike other sites, they don't take a commission on donations or charge us for using their services.