Kenny Bates
Learning Co-ordinator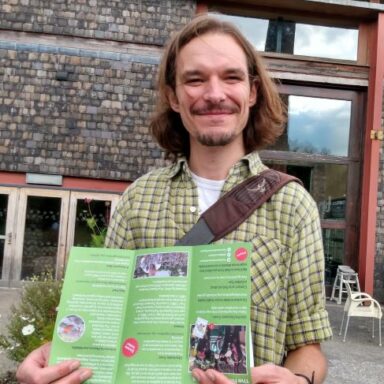 As GDA's new Learning Co-ordinator, Kenny is excited to build on GDA's Learning Programme working alongside members and participants. Kenny is keen to work with and learn from members, with the aim of building a varied programme of learning opportunities that encourage socialising, confidence building, and engaging with  local communities.
Prior to starting at GDA, Kenny worked as the Music Development Officer for Stirling Council, based at the Tolbooth arts centre. His role was to co-ordinate the music learning programme of workshops, classes and events for young people and adults, taking place both online and across culture venues, schools, youth groups and community spaces. Kenny's interests were in establishing varied and high quality music-making opportunities for groups of vulnerable young people and those facing barriers to music-making opportunities.
Throughout 2020-2021 this included creating a library of interactive online learning activities and resources that were either designed with specific groups in mind or for more general use within school hubs and music departments. Working with professional musician tutors, these resources coupled with weekly live online music sessions were created to allow the enjoyment, sharing and learning of music while people were largely isolated. Kenny will draw on these experiences and skills to balance developing both online and in person learning for GDA.
In his spare time Kenny enjoys writing and recording music with friends, photography, seeing live music, and going on outdoor adventures with his daft dog Roy.
Photo taken by GDA Member, Karen Gallacher.