Ruth Hart
Community Development Manager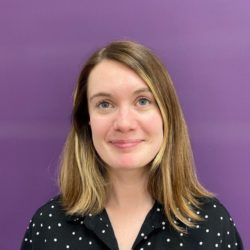 Ruth has been part of the team at GDA since October 2015 in a variety of roles around Community Development. This has included being Community Development Co-ordinator from January 2018 and now Community Development Manager from 2021.
Ruth heads up GDA's Voices team including building capacity, skills and confidence of GDA's Drivers for Change Network, Young Drivers for Change and disabled people in local communities around Glasgow, supporting disabled members to have their say on policies, services and decisions that affect them- including how money is spent and how resources are directed. Amplifying disabled people's voices has never been more important than during COVID and Ruth has played a leading role in making sure that disabled people's voices are heard across a range of services, policies and decisions in Glasgow.
Ruth previously worked in northwest France teaching English in secondary schools.  She has been involved in a number of grassroots campaigns working to make Scotland a better place for all and is currently studying for a Masters in Adult Education, Community Development and Youth Work at Glasgow University.
In her spare time Ruth loves travelling – around Scotland and further afield! – cooking, and watching films.