Ruth Hart
Community Development Coordinator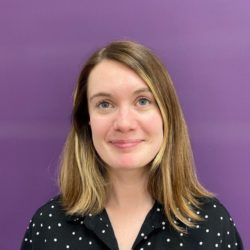 Ruth has been part of the team at GDA since October 2015, and worked as Community Development Co-ordinator since January 2018.  Ruth is a member of the Active Citizenship Team, working alongside Isla and Hannah on our Drivers for Change network and local area-based participation work.  Ruth co-led our 2018 Participatory Budgeting action research project, Budgeting for Equality, supporting teams of Drivers for Change members to carry out interviews across Glasgow.  She is currently supporting groups in Milton and Pollok to lead on their own projects funded through Participatory Budgeting, including the Pollok Access Fund and various community events in Canal Ward.  Ruth also coordinates our Young Drivers for Change network, supporting young GDA members to have their say on policies and services that affect their lives.
Ruth previously worked in northwest France teaching English in secondary schools.  She has been involved in a number of grassroots campaigns working to make Scotland a better place for all.
In her spare time Ruth loves travelling – around Scotland and further afield! – cooking, and watching films.