Megan O'Hara-Knight
Policy & Participation Co-ordinator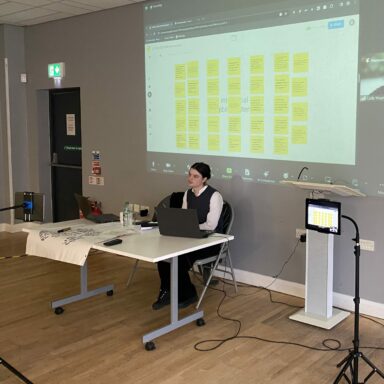 Meg took up the role of Policy and Participation Co-ordinator from June 2023 and plays a key role in the Future Visions for Social Care project, supporting and facilitating GDA's Social Care Expert Group. Meg plans and delivers accessible capacity building support and enables members to speak out and contribute to co-designing reforms around adult social care – particularly in relation to the National Care Service. Meg also supports disabled people to draw connections between social care and other areas like climate justice and city planning for the built environment.
Immediately prior to this role, Meg worked for one year as GDA Community Development Officer leading on GDA's Future Visions Photovoice Social Care Project. The Social Care Photovoice project combined Meg's artistic background in photography with disabled people's own expertise by experience of social care. Meg supported GDA members to use photography as a creative method to build individual and collective voices to convey disabled people's lived experiences and key messages in powerful and creative ways which inspire changes to policy and practice.
Meg previously worked in the GDA Admin Team and during the pandemic years, directly delivered social care in both community and care home settings.
In her own time, Meg loves drawing, cooking new GF recipes and going to the cinema to watch horror!