Linda Algie
Finance Manager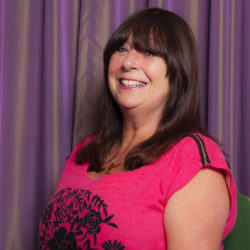 Linda has been keeping GDA's cogs turning since we first received funding in 2008. She has worked in the Third Sector for over 20 years: from a Recycling Project in Castlemilk to being a Manager of a Community Resource Centre with 17 staff. She first worked with Tressa Burke at the Gorbals Community Forum for 5 years before finally working at GDA.
Since working part time over the last 9 years Linda decided to attend Glasgow University – undertaking the Bachelor of Arts Community Development Honours Degree.  She is now on her 3rd year and enjoying every minute, although there are the dreaded 'words' to contend with, instead of figures. She also has a placement within the community, to carry out her CD practice work for her University Degree, which keeps her very busy and abreast of current issues at ground level.
Linda is a mother of 3 and a grandmother of 7 and loves holidaying in Las Vegas.