Lewis Watson
Digital Learning Officer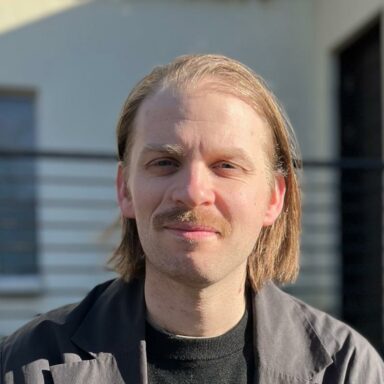 Lewis began working with GDA Connects team in September 2021 as a Digital Engagement Worker, delivering one-to-one coaching to our members over Zoom during another Lockdown in Glasgow. After a year in the role, Lewis progressed to Digital Learning Officer and his role involves delivering face-to-face individual and group learning and coaching, in a hybrid manner, i.e. in person and on Zoom.
Lewis has drawn on his previous experience working in the music industry to support the Connects team to deliver digital inclusion at GDA hybrid events, primarily looking after the sound for those in the room and enabling those at home to participate and contribute equally. This has enabled GDA to continue to reach the highest standards of participation needed.
Lewis has a background in music and art and was a cabinet maker and shop fitter until sustaining a back injury in 2021. He holds a BA Hons in Sculpture and Environmental Art and enjoys employing creative problem solving to amplify the voices of GDA members and ensure that not only are they digitally included, but that digital inclusion helps them to secure greater equality and better life outcomes.
In his spare time Lewis is a DJ and musician, hosting dance music parties as well as painting the occasional fantasy miniature.