Karen Wylie
Learning Manager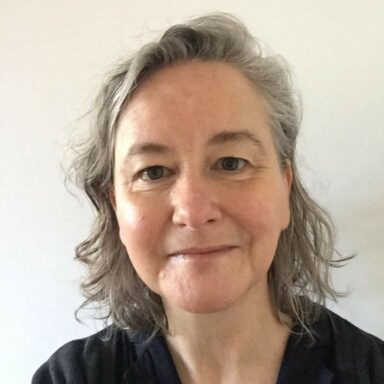 Karen is GDA's Learning Manager and was involved with GDA for many years firstly as as volunteer then Personal Assistant in her holidays from her day job, teaching. In March 2020, GDA had to suddenly halt our established and successful delivery model of face to face, highly participative and interactive learning sessions as we all went into Lockdown due to the Covid-19 pandemic. At this time Karen joined a band of GDA supporters who undertook a massive Wellbeing engagement exercise, calling GDA members to check-in on them and make sure they were able to access supports.
In June 2020, Karen was successful in becoming GDA's first online Learning Manager, putting her educational skills to good use and developing our brand new online learning programme. Working with colleagues, Karen has been responsible for establishing and developing GDA's online learning programme which delivered 18- 20 learning sessions per week until spring 2022, when GDA has also focused once more on those who are unable to get digitally connected.
To ensure an accessible and engaging programme both online and in person, it has been essential for Karen to co-design and develop this with members, tutors and GDA staff. A key factor has been putting Covid-19 safe protocols in place at members requests e.g. having access to fresh air or air filtration machines, taking LFTs, continuing with hand sanitising.
It has also been critical for Karen to work alongside GDA's Connects team, since over 60% of GDA members identified themselves as digitally excluded through GDA Lockdown engagement and research. Karen's aim is to reach as many people as possible, either to get them online or supported to meet in person so that they are better connected and have opportunities to learn, develop and fulfil their potential, supported by GDA Digital Coaches, Learning Co-ordinator, Learning Officer and GDA tutors.
Previously, Karen was a Modern Studies teacher in secondary schools in Glasgow for 4 years and before that, an academic Researcher for 8 years on various human rights related projects at Robert Gordon University and the University of the Highlands and Islands.
In her spare time, Karen enjoys reading, hillwalking, music and films.