Jonathan Burnett
Digital Learning Officer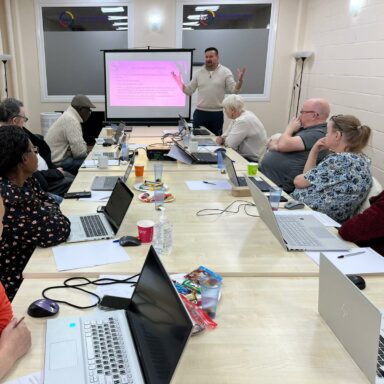 Jonathan joined GDA Connects team as Digital Engagement Worker in October 2021, engaging GDA members about their digital needs and goals and inevitably supporting people's wellbeing in the process since this was during a second Lockdown in Glasgow. After a year in the role, Jonathan progressed to Digital Learning Officer and his role involves supporting disabled people to navigate the modern digital landscape including through face-to-face learning and coaching sessions, group sessions or remotely via Zoom.
Known as JB to friends and colleagues alike, he spent most of his previous career working in hospitality management, where he thrived on training and development. JB brings this passion for 'upskilling' and developing people to his role at GDA, combined with a commitment to inclusion and patience- believing that anyone can learn with the right support. Being an empathetic listener, and using a person-led approach to digital problem solving has been key to JB's successful approach, as both a group learning tutor and individual coach.
In his free time, JB enjoys getting out into the hills for a hike, playing football or cooking up a storm in the kitchen!