Jamila Shaikh
Community Development Officer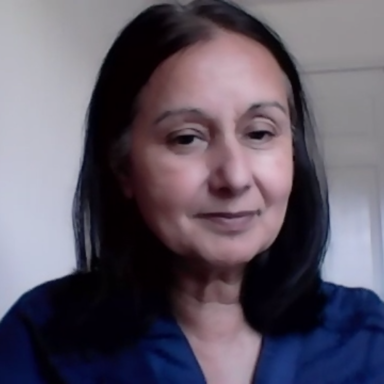 Jamila joined GDA as a Community Development Officer, connecting with the BAME disabled community in Glasgow and developing GDA's own BAME Disabled Members Network. This post was in response to GDA's evidence – backed by wider evidence – that participation and in particular, online participation was lower for black and ethnic minority people and communities, reducing their opportunities for support. Jamila's role involves engaging BAME disabled people, often communicating with them in their own language as she speaks 5 languages. Working with members, Jamila develops programmes of learning, peer support and capacity building. This includes supporting members to access 'GDA Connects' digital inclusion project, GDA Wellbeing project and other supports as required. As a specialist commuity development practitioner, Jamila collaborates with others to create opportunities to ensure that lived experience and priorities are heard in decisions that affect BAME disabled people – such as bringing people with lived experience together with policy makers and those planning, designing and delivering services.
Jamila was brought up in London and came to Glasgow 23 years ago.
15 years ago she lost her sight and had to adapt and change her world. She started voluteering with RNIB and subsequently secured a job as community development officer developing an outreach and engagement project with the BAME commuity. In that time she promoted the prevention of avoidable sight loss. She worked for RNIB for 10 years, running events, engagement and gaining extensive experience of community development work with the BAME community in Glasgow.