GDA Podcast Series 'Care About Us' launches it's second episode, 'A System in Crisis' today.
Now more than ever, we need the Scottish Government and Local Authorities to stop deprioritising disabled people, embed equalities in their approach and listen to us as a community of identity.
 
You can listen to the second of three episodes now here: https://podcasters.spotify.com/pod/show/care-about-us
 
GDA Member, Paula: "It's a nightmare really. I wish I didn't have to have carers, but I don't have a choice. It's degrading. Completely degrading"
 
GDA Member, Luke: "The media, the public, they all think of us as a burden."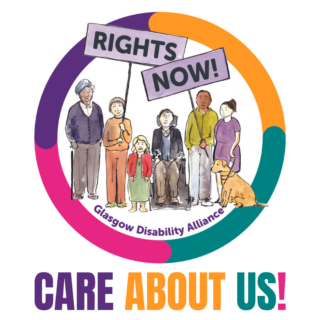 In the new podcast series, GDA members and activists in Glasgow tell us what social care means to them, what the main issues are in social care and how it needs to change.

With 21 million cut to social care support in Glasgow in March, a delayed National Care Service Bill and a new agreement between Local Authorities and Scottish Government threatening ring-fenced, protected funding for social care, disabled people cannot be ignored anymore.

In the current social care system, disabled people are facing: rising care charges, slashed care packages, inhumane and often cruel treatment and a system that is unable to uphold basic human rights.

The social care system in its current form is too broken and fragile to meet the real needs of disabled people in Scotland.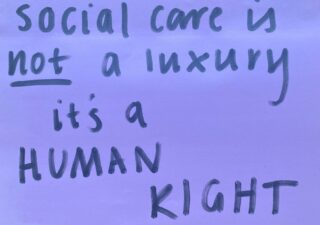 GDA Members are urgently calling on the Scottish Government and Local Authorities to overhaul the current social care system to meet need and uphold disabled people's human rights by:
– Improve resources for social care – including better wages, training and opportunities for care staff
– Scrap all care charges
– Re-open the ILF
– Overhaul eligibility criteria to focus on need, not the constraints of budgets
– Produce and deliver national standards and accountability to improve the quality and consistency of care delivered locally: empower leaders and social work professionals to develop a new culture based on upholding human rights.
– Provide flexible care that meets our needs and supports us to live the life we want to live