Challenge Poverty Week took place last week from 3 – 9 October, highlighting the injustice of poverty in Scotland and the need for collective action in response to the cost of living crisis.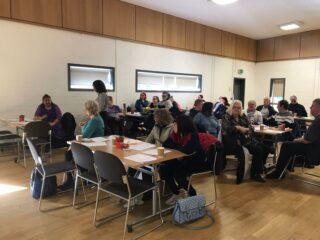 Over 50 of GDA's Drivers for Change came together in person to discuss increasing costs of living, the disproportionate impact this will have on disabled people and come up with solutions to the additional barriers our members are facing during this time. GDA's Drivers for Change network is made up of 200+ GDA members who dedicate time and energy to speaking out, collaborating for change and supporting others to do the same.

The event included a Performance from GDA's Purple Poncho Players, who delivered an entertaining and thought-provoking performance depicting disabled people's lived experiences in relation to cost of living crisis, poverty and other interrelated barriers faced.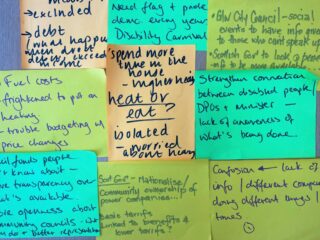 Discussing their immediate worries about the cost of living crisis, one GDA member said, "I am scared of what is going to happen. I already can't afford to turn the heating on and things are getting worse. What if my benefits get cut again or I get into more debt? There's no help for us."
Another GDA Member said, "Disabled people are never the priority. We weren't a priority during lockdown, we aren't a priority now".

Families containing disabled people are 62% more likely to fall into deep poverty (JRF, Jul 2022). The Joseph Rowntree Foundation's recent report, 'Poverty in Scotland' (October 2022) found that one quarter of disabled people have had to sell household belongings to make ends meet due to financial difficulty and 7 in 10 families where someone is disabled have had to cut back on essentials.

It already costs more to be a disabled person. We face additional costs due to higher use of heating and electricity to keep warm due to limited mobility or to charge power chairs and equipment. We also face costs of essential aids and equipment, therapy charges (e.g. psychotherapy, hyrdrotherapy, holistic medication) and costs of accessible transport (such as taxis and cars).

Even before staggering inflation and bills plunged people into crisis, disabled people were facing additional costs just to survive, including many paying for a backdoor tax on care needs in social care charges.

GDA members reflected on the recommendations made in GDA's report with the University of Glasgow and Glasgow DPO Network, 'Ending Poverty and Removing Barriers to Work for Disabled People in Glasgow beyond Covid-19', published in April 2022 and came up with calls to action for local and national Government in response.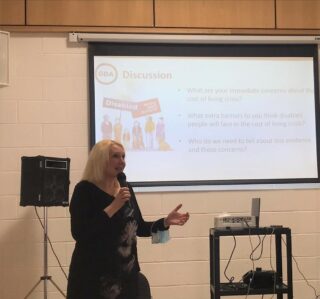 We need urgent action to prevent disabled people being pushed further into poverty by:
Adequate social security provision and a real increase to disability benefits, at least in line with inflation
Redefine the purpose of disability benefits to reduce poverty and support independent living
Increase the uptake of financial support through accessible welfare rights programmes
Create a Poverty Reduction Plan for Disabled People in Scotland and Glasgow, co-designed with disabled people and DPOs
Tackle the non-financial barriers causing poverty, such as access to food, digital exclusion and social isolation- ensure services which are accessible and holistic in meeting needs
Maximize Glasgow and Scotland's contribution to reducing the Disability Employment Gap
Consider progressive taxation to fund programs to reduce poverty amongst disabled people and provide solutions to the cost of living crisis
GDA's CEO Tressa Burke stated,

"For disabled people, poverty is about so much more than not having enough money. Disabled people's lives have been blighted by cuts to vital services, by extreme isolation exacerbated by digital exclusion, by rising hate crime and marginalization and by feeling forgotten and left behind.

Inequalities that were previously fuelled by austerity and described as a "Human Catastrophe" by the United Nations have been supercharged by Covid-19 resulting in disabled people being more invisible and powerless than ever.

During Covid, many disabled people couldn't access basic food and resources: the cost of living crisis is threatening further disadvantage, inequality and heightened trauma.

As Joseph Rowntree's Poverty in Scotland Report states, Governments don't need any more evidence- we need to act now, taking immediate steps and making extreme efforts so that disabled people and others don't fall through the gaps."
You can read more about GDA's recommendations in our report here: https://gda.scot/resources/ending-poverty-and-removing-barriers-to-work-for-disabled-people-in-glasgow-beyond-covid-19/

If you are interested in hearing more about GDA's Drivers for Change Network, please contact [email protected]