GDA's hybrid hustings event (in person and online) took place on Friday 22nd April 2022 at the Double Tree Hilton, Glasgow. Around 100 disabled people joined us at the Double Tree, in person with protection measures which made people feel safe, and around 50 members joined us online. The lively and interactive event was chaired by Pennie Taylor, Journalist and Broadcaster. We were also joined by candidates including:
Scottish Conservative & Unionist Party – Robert Connelly
Scottish Greens – Martha Wardrop
Scottish Labour Party – Pam Duncan Glancy
Scottish Liberal Democrats – Joe McCauley
Scottish National Party – Mhairi Hunter
GDA's manifesto-  shaped by thousands of GDA members over the last 2 years and refined by GDA's Drives for Change- was introduced by Tressa Burke CEO.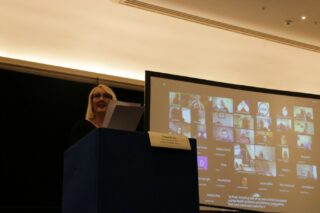 In the spirit of co-design, Drivers for Change members Rosie, John Paul and Harley, read out sections, online and in person.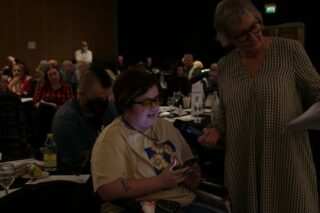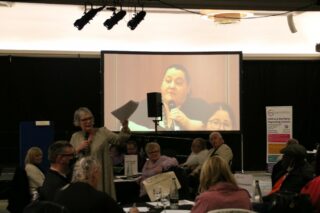 The PPPs performed – with fantastic sketches and songs depicting life for disabled people throughout the pandemic – with humour and thoughtfulness.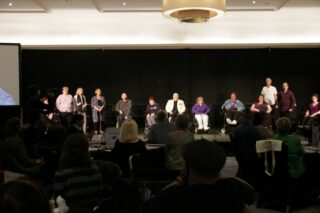 Questions relating to each Manifesto ask and more, came from the floor as well as online participants.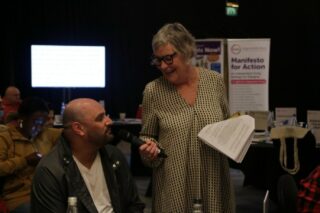 Questions included:
"What practical things will you do and what steps will you take to support disabled people's participation in decision-making if you are elected? "
"How will you support groups like GDA? Most of us here today are able to get involved with what's going on in Glasgow because of GDA and the access, information and support they put in place"
"How can we get better flexibility and more reliability in relation to social care that truly meets disabled people's needs?"
"What would candidates do to make Glasgow City Council more accessible and inclusive to all the residents of Glasgow?"
"Will you commit to making food provision support services accessible for disabled people, as well as tackling the poverty that drives people to need them in the first place?"
With the Local Government Elections on the horizon tomorrow, #GDAManifesto2022 has 6 asks that seek to address the interconnected barriers faced by disabled people.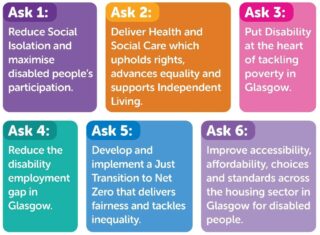 Tressa Burke, CEO said,
 
"For decades, disabled people have been striving to influence change: to eradicate barriers, accelerate equality and realise our Human Rights. The pandemic has taken a gruelling toll on those who were already worst off.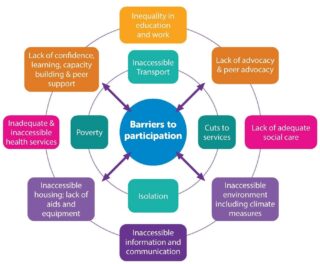 For too long, we have been made to feel like a burden and that we should reduce dependency on the state: this needs to change. Many inequalities disabled people face are a result of choices, including political choices, and they are not inevitable. These are inequalities which could be mitigated and reduced, if different choices were made. We must act now to supercharge disabled people's voices and lived experience to mitigate new and widened inequalities, and to ensure that disabled people are not left behind.
GDA's manifesto outlines a road map to do this.  We need our elected members to recognise the barriers that disabled people face, work with us to remove those barriers, and in the true spirit of codesign, collaborate with GDA towards solutions which tackle inequality, exclusion, and injustice.
 It is clearer now more than ever that disabled people's equality will benefit the whole of society. Our asks seek to remove these barriers for the disabled people and people with long term conditions who make up at least 25% of Glasgow's population. That's a lot of voters!"