"Disabled people are passionate about the environment and want to do all we can to play our part in addressing climate change. We want the drive to 'net zero' to go as fast as the drive to improve accessibility though – they need to go together, including us in the process and conversations."

Tressa Burke, CEO, GDA in her introductory remarks to the audience at COP26 Third Sector Civic Reception last Friday 5th November.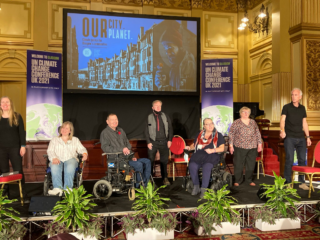 Last Friday 5th November, GDA's Purple Poncho Players were invited to perform in the City Chambers at the Third Sector Civic Reception, hosted by Glasgow's Lord Provost, Cllr Philip Braat who opened the event. "I am delighted to pay tribute to every organisation and individual who make up Glasgow's Third Sector, for the massive contribution it makes to this city and beyond. The Third Sector covers a huge spectrum of expertise, and plays an integral part in the wellbeing and welfare of our citizens. Those same individuals and organisations in the Third Sector play a crucial role in delivering services every day and all across Glasgow to those who need it most. Unquestionably, without them, the city could not fully function. The scale of the sector means that it touches every part of the life of the city – from care to helping meet our Net Zero targets – so it is fitting that we recognise its invaluable contribution."
Following this welcome and thanks, the event heard input from Ian Bruce, CEO of GCVS and Tressa Burke, CEO of Glasgow Disability Alliance.
The PPPs performance which followed gave immediate and stark insights about barriers and issues that face disabled people in trying to join measures to reduce climate change. This included two short, lighthearted scenes, a piognant and humourous poem and a rousing song which provided a fitting end to a Glasgow event, aptly named "People Make Glasgow!"
"Funny, poignant and with a clear message about what climate justice means for disabled people, the PPPs absolutely smashed it."

Kathleen Caskie, Glasgow Third Sector Interface Network.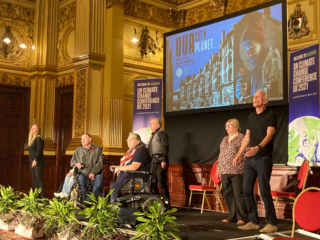 Tressa Burke compared disabled people's experience of Covid and climate change planning, in her remarks,
"…the last 19 months has demonstrated that we might well all have been in the same storm – but we were most definitely not all in the same boat. Disabled people had fewer lifelines than many and faced multiple and deep layered exclusion and consequences as a result of COVID and the supercharged inequalities it brought about."

Tressa Burke, CEO of Glasgow Disability Alliance
Throughout Covid-19, GDA have provided an abundance of additional supports to disabled people who faced a tsunami of challenges and barriers causing many to fall through gaps in provision. GDA spoke to over 6000 disabled people, many who couldn't access information, social care, food, money, connections and other vital supports during the pandemic and this reverberates on. This lived experience has been shared with those in recovery planning and there are parallels to be drawn around inputting to measures for Climate Planning, Policies and Actions.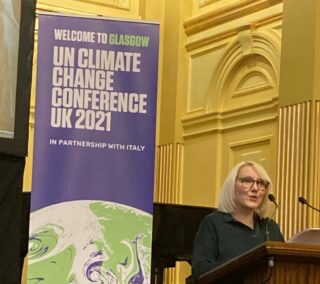 Members of GDA spoke to The Ferret last week describing their exclusion from COP26. It was reported by GDA members that COP26 information was not readily available or accessible creating confusion and further barriers. Disabled people are concerned that their voices will not be heard and therefore not accounted for in planning, resulting in needs not be met in a climate emergency – Paul, one of our members featured in the Ferret said:
"When you hear of weather driven natural disasters you see people on their roofs [on TV]. And I'm thinking I bet you in some of those houses there are disabled people. They'll be left behind."
In response he "always has a plan B" that includes batteries, candles, bottled water. "It might sound daft but if there's a road closed and I struggle to get to shops at least I have the basics."
COP26 – the event itself – has impacted on disabled people living in Glasgow. GDA members living in the Exclusion Zone have reported being imprisoned in their own home, blockages to their social care workers getting to them, not being able to get to their GP for essential appointments and barriers to moving around the city due to road closures and protests. GDA's own Deputy CEO, Marianne Scobie, was unable to attend the COP26 Blue Zone this week, despite having a place, as there was not 'space' for her support worker to attend.
All this could be avoided, if disabled people had increased opportunities to participate meaningfully in decision making and have a voice in climate justice processes, actions and decisions.
And all of this said, GDA have made sure disabled peoples voices and priorities have been shared during COP26 through our young people Democracy Pioneers project, our members taking part at Science Centre COP26 activities and our PPPs sharing learning and lived experiences at Glasgow City Chambers.

GDA continues to listen to disabled people and feed their lived experience to those in power to make positive changes that mean #NoOneIsLeftBehind.

If you would like to get involved, please get in touch.