"Personally, getting the ipad was so liberating and the coaching was essential because otherwise I wouldn't have known where to start. It enabled us to participate in activities we like and new ones too. Everything was tailored to meet members' needs. It gave us opportunities to connect at the darkest of times we'd known and it gave us opportunities too. How the staff managed to work at the pace needed and sustain it was amazing. GDA's not like any other organisation – it's unique." Susan McGinley, GDA member.

In August 2020, GDA produced Supercharged: a human catastrophe as a marker for the culmination of views gathered from our members during the first lockdown. It found:
80% didn't know where to turn to for help in their local communities in terms of information, advice, services or supports
82% were worried about social isolation and loneliness
60% face digital exclusion- either the device, the connectivity or the confidence to use digital equipment
All of this was on top of the fact that disabled people were twice as likely to face isolation and previous Action Research had shown 71% had difficulty taking part in things locally.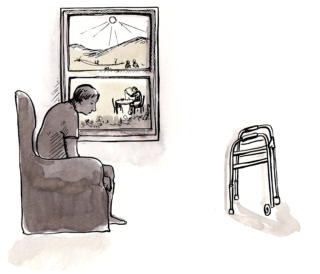 It's been going on for a long time – and COVID "supercharged" this and reminded us all that additional measures and efforts need to be made to reach disabled people who do not automatically feel part of their 'local' community- because we can't always access it. Otherwise- as GDA's extensive engagement with over 6000 and online survey completed by 2500 demonstrated- disabled people will fall through the gaps.

That is why the work of GDA is so important – as a community of interest, GDA provides opportunities for disabled people to build their confidence, come together and 'connect', leading them to contribute and participate in society.

Throughout the pandemic our delivery model had to change – and so much of this work has continued and indeed developed, digitally. Much of our learning is now online. GDA Connects was developed to support those members digitally excluded and we developed our lifeline and wellbeing service.

As restrictions ease, we were able to arrange a face to face meeting with a very limited number – only 5 – of GDA members to speak to Minister for Equalities and Older People, Christina McKelvie MSP.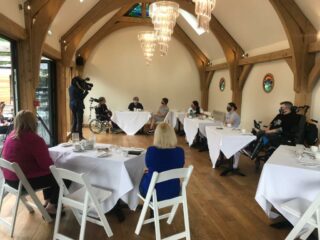 Christina listened to #LivedExperiences of Social Isolation and Loneliness, halted or reduced services, not knowing where to turn for help and digital exclusions. She also heard concerns about access to basic supplies as well as accessing information to stay safe during the pandemic and the role played by GDA and other Disabled People Led organisations. The Minister heard too about concerns over physical health and also mental health- something which affected many people during the pandemic and she heard that disabled people's wellbeing had taken a severe hit. Disabled members also shared stories of what has helped- Wellbeing Support and Check Ins, Digital Supports, access to others in the same boat and accessible online activities and there were also some happier stories of services being reinstated.

The Minister for Equalities and Older People reflected on all of the experience shared, thanked members for sharing these and assured GDA members that her sound understanding and analysis of the problems will enable her to make better policy decisions.

GDA were delighted that the event was hosted by the fabulous No. 10 Hotel in the southside of Glasgow which provided an amazing afternoon tea for GDA members after the session. Huge thank you to No.10 Hotel and staff for making the event such a success and to Scottish Government for the funding to tackle social isolation.
Tressa Burke, Glasgow Disability Alliance Chief Executive, said:
"We welcome this funding to mitigate brutal inequalities supercharged by the pandemic on disabled people. Our member survey and engagement revealed that 82% worry about social isolation and loneliness, 60% face digital exclusion, 80% don't know where to turn to for help and 90% are worried about physical and mental health. The funding enables us to provide vital lifelines, programmes and support including digital coaching, wellbeing support and access to online activities which build confidence, connections and ensure the ongoing contributions of disabled people."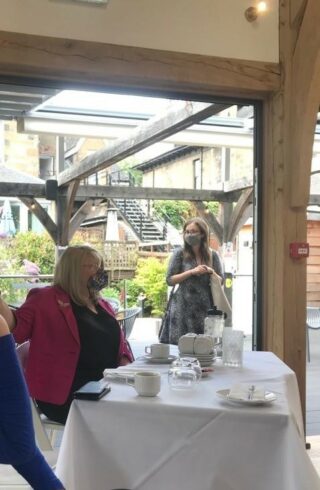 GDA will continue to feed in the lived experience of our members to Scottish Government, Glasgow City Council and others to tackle social isolation and other barriers experienced by disabled people.