Please let your PAs know!
A dedicated online and paper based application form, administered by Scotland Excel on behalf of the Scottish Government, was launched on Wednesday 30 June 2021 to pay Personal Assistants who are eligible to receive their payment for NHS and Social Care staff.
The Scottish Government has worked with disabled led organisations and payroll providers to find the quickest way to reach Personal Assistants. We would invite you to work with your Personal Assistants to support them in making their claim.
The Scottish Government recognises the unique place that Personal Assistants and Personal Assistant Employers hold within social care and encourage all eligible Personal Assistants to claim for this payment in recognition of their invaluable work throughout the pandemic.
The maximum payment for those PA's who work full-time (30 hours per week) is £500. For PAs who are not full-time (less than 30 hours per week), the payment will be pro-rata based on the hours they work. For example, if they work 50% of full-time hours the payment will be £250.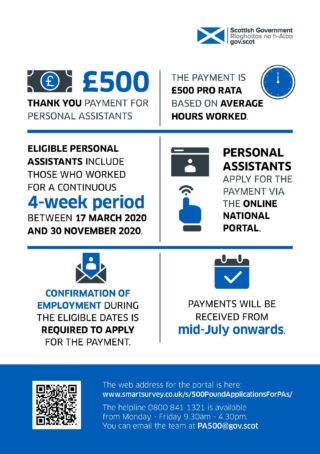 Eligibility
A PA is eligible if:
they are directly paid by an employer who receives funds to employ staff either from Independent Living Fund (ILF) Scotland, or from a Local Authority or Health and Social Care Partnership through Option 1 (Social Care (Self Directed Support) Act 2013)
they are PA to an adult (age 16 or over) and were paid to be their PA over a continuous 4-week period between 17 March 2020 and 30 November 2020 (this is the qualifying period).
Please pass this information on to your PAs and previous employees if you think they may be eligible for this payment.
Support for Applicants
Self Directed Support Scotland will be providing helpline support for those PAs who have queries with regards to the application process on 0800 841 1321.
Link to the online application form
Eligible PAs should make their application at:
https://www.smartsurvey.co.uk/s/500PoundApplicationsForPAs/
Full guidance and Frequently Asked Questions (FAQs) can be found on the Scottish Government website at: https://www.gov.scot/publications/coronavirus-covid-19-social-care-workforce-gbp500-payment-guidance-for-personal-assistants
Please note: the deadline for applications is 25th August 2021