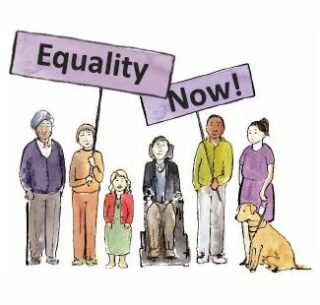 As millions of people in Scotland gear up to hit the polls tomorrow, disabled people are determined to have our voices heard – at the ballot box and beyond. Because Equality and Human Rights can't wait – and Scotland can no longer afford to leave disabled people behind.
The Social Model of Disability empowers us to know that it's not our bodies or impairments which cause our inequality – it's the barriers we face in society. Therefore it's not us who need to be fixed – it's the barriers which can and must be removed.
Participation: the key to Equality
These barriers – the root causes of inequality – can only be understood and addressed by involving and empowering the voices and expertise of those who live it day to day.
For 21 years GDA has been removing barriers and advancing equality, human rights and social justice for disabled people. GDA's empowering programmes support disabled people to participate and build a collective voice: to challenge barriers across society and provide insights, learning and lived experience, collaborating with powerholders to achieve the change we need.
From co-designing Social Security Scotland, to environmental planning, to our own appointments with health, social care and other services – disabled people resoundingly agree that what works is 'being listened to, being heard, being respected as experts in our own lives.'
Devastating impacts of COVID on our disabled community have shown clearer than ever the vital importance of lived experience to highlight gaps and barriers – and the unique role of disabled people led organisations in building capacity, consciousness, and a collective community voice for those of us disabled by a society that is designed, by default, without us in mind.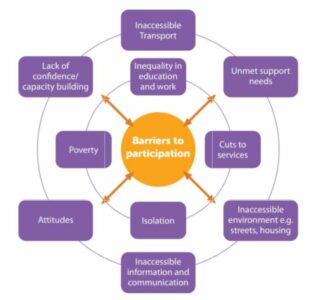 To tackle the most pressing challenges of our time, we need a step change in how lived experience experts are enabled to participate in shaping plans and decisions to maximise our collective resources for the benefit of us all.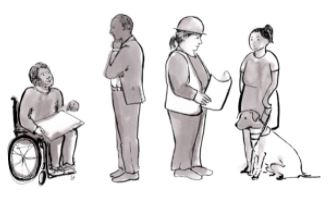 Manifesto for Equality pledge #5
Co-design an Equal Scotland: Embed Lived Experience
We call on MSPs and powerholders across Scotland to:
Embed Rights to participation in the National Performance Framework as lever for meaningful involvement e.g. budget setting and decisions at Local Authority / Integrated Joint Board level; set indicators and a collaborative monitoring process co-designed with disabled people and other Equalities-led communities.
Urgently co-design Emergency resilience plans to ensure disabled people are never again left behind when a crisis hits.
Put Equality and Human Rights at the heart of local participatory decision making. Building on progress towards participatory budgeting and local democratic renewal, resource equality-led communities – including disabled people led organisations – to build capacity and ensure local decision making is informed by diverse lived experience.
Shift the balance of power by embedding values-based leadership and a learning culture which empower frontline workers to collaborate as equal partners with the communities they serve: meaningfully co-designing, improving relationships, responsiveness and outcomes.
To find out more and explore how disabled people's expertise could strengthen your work Get in touch!
GDA's Manifesto, shaped by the voices of 6000 disabled people, offers a crucial roadmap to accelerate Scotland's journey towards Equality and Human Rights. Read the full manifesto here.
Get involved by sharing it on social or forward to your candidates, to help amplify disabled people's calls to action.
Thank you!